Wet-Dry World is the eleventh course in Super Mario 64. Considered one of the most bizarre levels in the game because of its strange atmosphere, Wet-Dry World is commonly associated with negative feelings and anomalous sightings.
Missions
SHOCKING ARROW LIFTS!
TOP O' THE TOWN
SECRETS IN THE SHALLOWS AND SKY
EXPRESS ELEVATOR--HURRY UP!
GO TO TOWN FOR RED COINS
QUICK RACE THROUGH DOWNTOWN
Phenomena
Negative Emotional Aura
Wet-Dry World is said to have a negative emotional aura, felt within multiple players[1]. The reason is still unknown, but it likely has something to do with the stage's music and appearance.
Positive Emotional Aura
On the other hand, some have reported that the level is not a bizarre liminal space and instead the flooded town but un-flooded and populated by Bob-Omb Buddies or other NPCs. Most people who have encountered this level report that being in it was pleasing, cozy, and made them feel safe and happy. It is theorized that the AI picked up on the fact that Wet Dry World was giving its players a bad feeling and modified it to make them feel good.
Human Brain Diagram
It is theorized that the course itself is a functioning simulation of a human brain, functioning as the "brain" of the Personalisation A.I. There is allegedly an image of a human brain hidden within Wet-Dry World's assets, with some speculating the image was used as reference material for the creation of the artificial brain. However, this texture has yet to be discovered, presumably removed from the game before its official release. This may mean that the Amps are actually neurons.
A Brain Diagram texture has been found by someone in this page's comment section. There appears to be an eye on the brain.
Burning Town
According to some reports, the town segment of the level can reportedly appear to be on fire if they manage to reach the town without flooding it. The fire reportedly doesn't dissipate when the village is flooded, potentially due to the A.I. failing to generate special code to make the fire disappear. Notably, a similar anomaly has been reported that would have the town in the skybox appear to catch fire.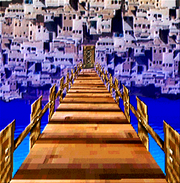 City World
In some copies the player can be teleported to the city showed in the skybox. It is said this secret course contains models that look like Delfino Plaza's buildings. A big brain-like monster is shown on its skybox. Players who accessed this area confirmed to have felt a negative anxiety-inducing aura.

Trivia
Wet-Dry World's skybox was previously thought to be an image of the town Casares, in Spain. However, it was later discovered that the skybox is in fact an altered photo of the town Shibam, in Yemen.[1]
Certain textures from The Legend of Zelda: Ocarina of Time were used throughout this map, namely the unopenable doors, but Ocarina of Time was released in 1998 and Super Mario 64 in 1996 so i think they Re-used the texture for The Legend of Zelda: Ocarina of Time
References