"Tiny Huge Island" is the thirteenth level in Super Mario 64. The course consists of a small mountain with the main gimmick being entering pipes throughout the level to switch between large and small versions.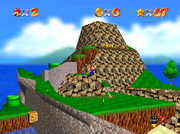 Mission
PLUCK THE PIRANHA FLOWER
THE TIP TIP OF THE HUGE ISLAND
REMATCH WITH KOOPA THE QUICK
FIVE ITTY BITTY SECRETS
WIGGLER'S RED COINS
MAKE WIGGLER SQUIRM
Geography
Phenomena
Midsized Island
Multiple people have claimed to be able to access a version of the island that is larger than the small version and smaller than the large version. The most common way of accessing this level is by jumping into the middle painting located in Peach's Castle, however others have claimed that entering the pipe in the small island brought them to it. So far none of the reported sightings have been necessary to collect any stars.