Hazy Maze Cave is a large cave, with many unique assets. The entrance is a pool of metal liquid which can be found in the Castle Basement with no additional stars needed. The entrance to the Cavern of the Metal Cap area can be found here.The stage has a confusing design at times, so there are maps placed on the walls to help figure out where to go.
Geography
Hazy Maze Cave is a rather large cavern with many rooms. Notable rooms are the underground lake, a room with a moving platform and red coins, and a toxic maze. The toxic maze has poisonous gas, which requires use of the Metal Cap to breathe in safely.
Missions
SWIMMING BEAST IN THE CAVERN
ELEVATE FOR 8 RED COINS
METAL-HEAD MARIO CAN MOVE!
NAVIGATING THE TOXIC MAZE
A-MAZE-ING EMERGENCY EXIT
WATCH FOR ROLLING ROCKS

Phenomena
The Metal Parasite
Main article: The Metal Parasite
The Metal Parasite is a blob of metal that can be sometimes found here. Anything that touches it gains powers similar to Metal Mario's.
Sewage Conspiracy
The entrance to Hazy Maze Cave is laced with pipes across the walls leading some to believe that the room is related to the castle's sewer system. Others jokingly speculate that Hazy Maze Cave is also the castle's very own sceptic system due to the existence of poisonous gas being flatulence and the rolling boulders being large lumps of feces.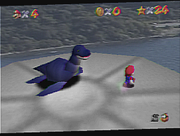 Salty, Salty, Shore
Main article: Salty, Salty, Shore
Salty, Salty, Shore is a level that occaisonally replaces Hazy Maze Cave. It is a beach-like area with caverns, mist, and Dorrie, causing many to believe it is an early HMC, or was otherwise reworked into HMC.

Mother Dorrie
Main article: Mother Dorrie
Mother Dorrie is an entity which can be sometimes found in the same area as Dorrie. It resembles Dorrie, but is larger and more intimidating.
Thwimps
Thwimps are enemies in the Super Mario Bros. series. They are smaller versions of Thwomps that jump around. In some personalized copies, they appear in Hazy Maze Cave.
Community content is available under
CC-BY-SA
unless otherwise noted.